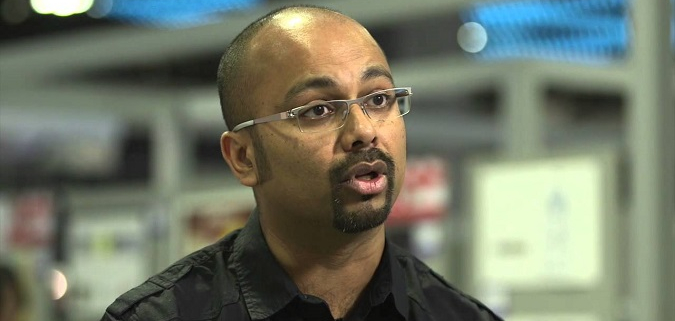 Indy Saha, del Google Creative Lab, parla d'estratègia, innovació i creativitat en el món digital
El Clúster Audiovisual de Catalunya, en col·laboració amb el Royal Melbourne Institute of Technology (RMIT University), va organitzar el passat 29 de maig a Barcelona la sessió "Strategy, innovation and creativity in rapidly changing digital world", amb la ponència d'Indy Saha, director d'estratègia del Laboratori Creatiu de Google (Google Creative Lab).
Durant la seva ponència, Saha va presentar el Laboratori Creatiu de Google, un equip interdisciplinari amb seu a Londres però amb grups de treball repartits per altres ciutats, com Nova York, San Francisco o Sydney, que té com a principal objectiu crear pilots i prototips de nous productes o serveis vinculats a Internet i potenciar l'ús de la xarxa per al desenvolupament de projectes creatius i docents.
A tall d'exemple, va presentar "DEV.ART Art made with code", una plataforma creada per Google on es recullen projectes artístics basats en l'ús de dades; el Google Science Fair, pensat per a que, per mitjà de la programació, des de ben petits, els joves potenciin les seves habilitats; el Hangout Comedy Club, que transforma Youtube en una plataforma de continguts basats en l'humor.
També es va referir a Spell Up de Google Chrome que dóna facilitats a l'aprenentatge de la llengua anglesa; i al Science Museum/Web Lab i el Web Lab de Google Chrome, dos projectes interconnectats que permeten la interacció virtual de l'usuari amb els continguts del Science Musuem.
Finalment Saha va reflexionar sobre la necessitat de generar noves dinàmiques de treball basades en la col·laboració entre les persones i les empreses, la recerca, la multidisciplinarietat i la transdisciplinarietat; i va celebrar l'existència del Clúster Audiovisual de Catalunya, animant les empreses que en formen part que apliquessin aquestes noves maneres de treballar, potenciant la innovació i la creativitat, una de les claus de l'èxit de Google.
https://www.clusteraudiovisual.cat/wp-content/uploads/2021/02/Indy_Saha_x380.jpg
380
675
admin
https://www.clusteraudiovisual.cat/wp-content/uploads/2023/01/LogoclusterAudiovisual-10anys.png
admin
2014-05-29 15:49:08
2014-05-29 15:49:08
Indy Saha, del Google Creative Lab, parla d'estratègia, innovació i creativitat en el món digital