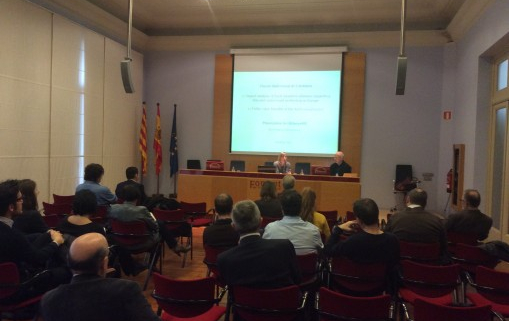 Los incentivos fiscales, con Jonathan Olsberg
¿Son realmente necesarios los incentivos fiscales a la producción? ¿Revierten en beneficio del sector audiovisual local? ¿Qué impacto han tenido? Son algunas de las cuestiones que Jonathan Olsberg, presidente de la consultora británica Olsberg-Spi, ha respondido en la sesión que el Cluster Audiovisual de Catalunya ha organizado hoy en Foment del Treball bajo el título "Incentivos fiscales. El audiovisual como motor económico".
Según Jonathan Olsberg, los incentivos fiscales, que tienden a aplicar cada vez más estados europeos, no solo tienen un impacto económico positivo en aquellos países que los han implantado, sino que benefician las empresas de producción local que participan en las producciones, puesto que promueven la interacción con empresas internacionales, atraen la inversión extranjera, facilitan el establecimiento de coproducciones, estimulan la movilidad de trabajadores y favorecen la adquisición de experiencia.
Lo prueba el hecho de que en aquellos países con altos costes de producción y que no aplican incentivos (como es el caso de algunos países escandinavos) han tendido a perder la inversión extranjera en detrimento de otros países que sí que los aplican (como Islandia).
Además, Olbserg ha remarcado que el audiovisual y las industrias creativas en general son uno de los sectores con un efecto económico multiplicador más elevado. En el caso del Reino Unido, según ha demostrado un estudio de la misma consultora Olsberg-Spi, cada libra invertida en incentivos genera más de 12 libras de valor agregado bruto hacia otros sectores y 3,74 libras en calidad de ingresos adicionales del gobierno.
La consultora británica Olsberg-Spi trabaja en el asesoramiento estratégico de las industrias creativas, especializada en cine, TV y medios digitales; y ha sido coautora del informe publicado por el Observatorio Europeo del Audiovisual «Impact analysis of fiscal incentive schemes supporting film and audiovisual production in Europe".
https://www.clusteraudiovisual.cat/wp-content/uploads/2021/02/IMG_0028-e1427110645309.jpg
380
509
admin
https://www.clusteraudiovisual.cat/wp-content/uploads/2023/01/LogoclusterAudiovisual-10anys.png
admin
2015-03-20 10:41:21
2015-03-20 10:41:21
Los incentivos fiscales, con Jonathan Olsberg