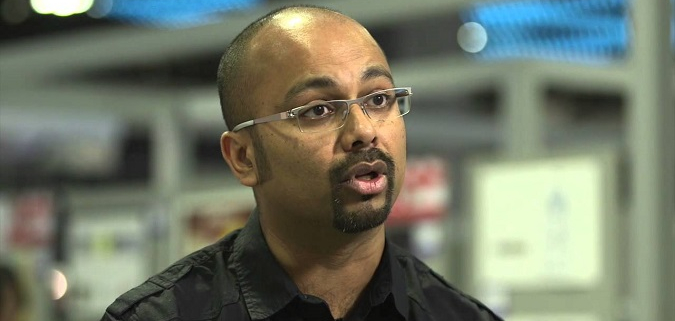 Indy Saha, del Google Creative Lab, habla de estrategia, innovación y creatividad en el mundo digital
El Cluster Audiovisual de Cataluña, en colaboración con el Royal Melbourne Institute of Technology (RMIT University), organizó el pasado 29 de mayo en Barcelona la sesión "Strategy, innovation and creativity in rapidly changing digital world", con la ponencia de Indy Saha, director de estrategia del Laboratorio Creativo de Google (Google Creative Lab).
Durante la ponencia, Saha presentó el Laboratori Creativo de Google, un equipo interdisciplinario con sede en Londres, pero con grupos de trabajos esparcidos por otras ciudades, como Nueva York, San Francisco o Sydney, cuyo principal objetivo es crear pilotos y prototipos de nuevos productos o servicios vinculados a internet y potenciar el uso de la Red para el desarrollo de proyectos creativos y docentes.
Como ejemplo, presentó "DEV.ART Art made with code", una plataforma creada por Google donde se recogen aquellos proyectos artísticos fundados en el uso de datos; el Google Science Fair, pensado para que, por medio de la programación, desde pequeños, los más jóvenes potencien sus habilidades; o el Hangout Comedy Club, que transforma Youtube en una plataforma de contenidos basados en el humor.
También se refirió a Spell Up de Google Chrome, que aporta facilidades para el aprendizaje de la lengua inglesa; o al Science Museum/Web Lab y el Web Lab de Google Chrome, dos proyectos interconectados que permiten la interacción virtual del usuario con los contenidos del Science Museum.
Finalmente Saha reflexionó sobre la necesidad de generar nuevas dinámicas de trabajo basadas en la colaboración entre las personas y las empresas, la investigación, la multidisciplinariedad y la transdisciplinariedad; y celebró la existencia del Cluster Audiovisual de Cataluña, animando a las empresas que forman parte de ella que aplicasen nuevas maneras de trabajar, potenciando la innovación y la creatividad, una de les claves del éxito de Google.
https://www.clusteraudiovisual.cat/wp-content/uploads/2021/02/Indy_Saha_x380.jpg
380
675
admin
https://www.clusteraudiovisual.cat/wp-content/uploads/2023/01/LogoclusterAudiovisual-10anys.png
admin
2014-05-29 15:49:08
2014-05-29 15:49:08
Indy Saha, del Google Creative Lab, habla de estrategia, innovación y creatividad en el mundo digital