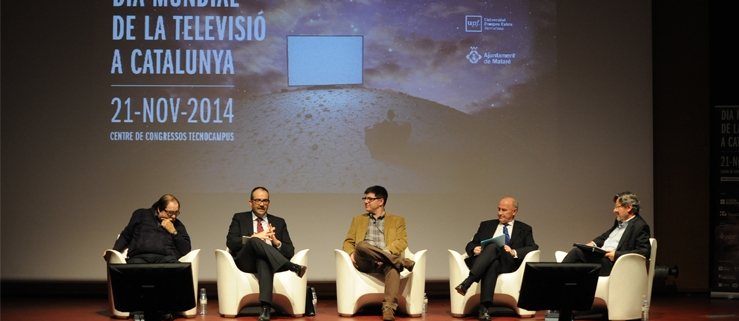 World Television Day in Catalonia
The Catalan Audio-visual Cluster and the Tecnocampus of Mataró celebrated the World Television Day in Catalonia in a discussion series that brought together critics, journalists, media managers and producers.
The event consisted of three round-tables, gathering participants from different sectors that invited the audience to think about the evolution of the world of television, the changes in consumption patterns, and the transformations and new challenges that the sector has to face with the emergence of the internet and new technologies.
Fernando de Felipe (La Vanguardia), Manuel de Luna (El Periódico) and Paula Hernández (Vertele.com), who sat together in the first round-table, "What television we have. The critics talk", all agreed that more innovation is required in the TV industry in order to attract new audiences, and especially the youth audience.
In the second round-table, "What kind of television can we do in Catalonia", participants Antoni Pemán (CCMA), Oscar Nogueira (8TV), Ángel Casas (Barcelona TV) and Joan Foguet (XAL), highlighted the difficulties that the sector faces, with the reduction of Catalan audio-visual productions due to the decrease of public resources and the concentration of the advertisement market in the hands of only two large corporations.
The debate in the third round-table, "The coming TV",focused on the challenges that stem from interactivity, the rise of the live broadcasting, new online content operators and business models that respond to new patterns of consumption. The participants were Xavier Fisa (Lavinia Interactiva), Ferran Clavell (CCMA), Xavier Redón (Abertis Telecom), Jaume Ripoll (Filmin) and Álex del Olmo (Tecnocampus).
https://www.clusteraudiovisual.cat/wp-content/uploads/2021/02/dia_mundial_televisio_tecnocampus_2.jpg
350
739
admin
https://www.clusteraudiovisual.cat/wp-content/uploads/2023/01/LogoclusterAudiovisual-10anys.png
admin
2014-11-21 09:14:11
2014-11-21 09:14:11
World Television Day in Catalonia