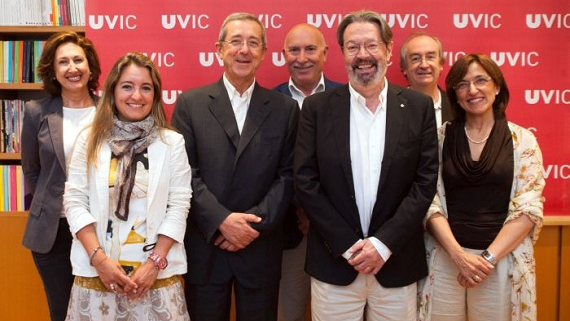 Collaboration With the Balmes University Foundation
The Catalan Audio-Visual Cluster has signed a collaboration framework agreement with the Balmes University Foundation, owner of the Teknós centre and the Vic-UCC University, aimed at encouraging collaboration in teaching, research, transfer, technology and innovation.
The agreement comes just a few months after last May's inauguration, in the city of Vic, of the Teknós Training Centre in Technology and Communication and it formalizes the opening of new channels for cooperation between the university and businesses in the audio-visual sector.
Through the Faculty of Business and Communication and the Polytechnic School, the University of Vic-Central University of Catalonia joins the group of academic institutions connected to the Audio-Visual Cluster.
This agreement promotes the establishment of collaborative academic and research activities, the development of collaborative studies, and the execution of projects of mutual interest. Moreover, it strengthens the training of Vic-UCC University students by providing students with work experience, development of undergratuate and Master's projects, and the profesional training of the Teknós students in companies that form part of the Cluster.
Present at the signing event were Josep Terradellas, the FUB general secretary, acting on behalf of general manager Joan Turró; Xavier Guitart, president of the Catalan Audio-Visual Cluster; Joan Rosés, Cluster manager, and Jordi Montaña, rector of  Uvic-UCC. Also present at the signing were Núria Barniol, manager of the Profesional Careers Service, Mercè Chacón, the Teknós coordinator, and Anna Paloma, coordinator of the FEC communication studies.
During the signing, rector Jordi Montaña urged Teknós, the Faculty of Business and Communication, and the Polytechnic School to work closely with the Cluster, since they offer academic programs related to the audio-visual and technological field. In turn, Xavier Guitart declared that "one of Cluster's priorities is to strengthen contact with universities", and added that "at this moment the audio-visual sector is undergoing spectacular growth, since it must provide the entire digital realm with new content and technology, and therefore the relationship with young, trained, and specialized university and pre-university students, is extremely strategic."
https://www.clusteraudiovisual.cat/wp-content/uploads/2021/02/Conveni_VIC_03_07_2014_x380alt.jpg
380
570
admin
https://www.clusteraudiovisual.cat/wp-content/uploads/2023/01/LogoclusterAudiovisual-10anys.png
admin
2014-07-03 15:42:18
2014-07-03 15:42:18
Collaboration With the Balmes University Foundation