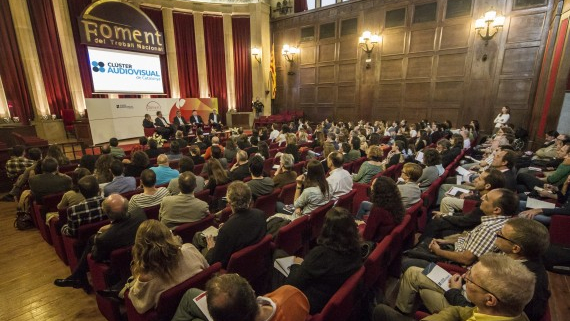 200 Professionals Debate the Relationship between Brands and Content
In order to debate the relationship between brands, advertising agencies, producers and channels, around 200 audio-visual and marketing professionals came together in a session about Collaborative Communication, organized by the Catalan Audio-visual Cluster at the Foment headquarters.
This event included the participation of Jaume Alemany, marketing director for Damm; Jordi Alavedra, CEO of the Ogilvy & Mather agency in Barcelona; Tinet Rubira, director of Gestmusic/Endemol;  Carles Manteca, sales and marketing director of the CCMA; and moderated by Enric Pujadas, vice-president of the Cluster.
The speakers all agreed that the classic advertising models, still predominant in the sector, no longer meet the increasingly diverse, changeable and demanding needs of the consumer-spectator, who has an increasing capacity for controlling his or her own consumption. Tinet Rubira warned: "The spectator always eludes us; s/he is always one step ahead".
They also agreed on the necessity to join forces in finding an alternative or complementary advertising model based on collaborative communication which would integrate all parties involved in content creation and would be less aggressive for the spectator.
Jaume Alemany, for example, pointed out that Damm tries not only to sponsor artistic activities, but to build up long-term relationships with them. In turn, Carles Manteca (CCMA) announced that TV3 will assign part of its resources to creative R&D.
However, Jordi Alavedra warned that this new model may face some difficulties: the enormous complexity of collaborative communication projects, the large amount of agents involved, the difficulty of reconciling often conflicting interests, or the increased costs of the process, to give some examples.
https://www.clusteraudiovisual.cat/wp-content/uploads/2021/02/H8I5267LOGO-e1415014542914.jpg
380
570
admin
https://www.clusteraudiovisual.cat/wp-content/uploads/2023/01/LogoclusterAudiovisual-10anys.png
admin
2014-10-30 09:02:05
2014-10-30 09:02:05
200 Professionals Debate the Relationship between Brands and Content