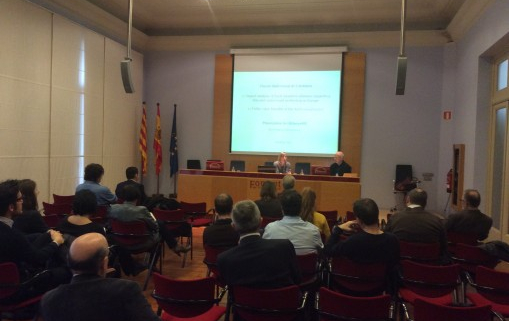 Els incentius fiscals, amb Jonathan Olsberg
Són realment necessaris els incentius fiscals a la producció? Reverteixen en benefici del sector audiovisual local? Quina ha estat la seva evolució a Europa? Quin impacte ha tingut? Són algunes de les preguntes que Jonathan Olsberg, president de la consultora britànica Olsberg-Spi, ha respost a la sessió que el Clúster Audiovisual de Catalunya ha organitzat avui a Foment del Treball amb el títol: "Incentius fiscals. L'audiovisual com a motor econòmic".
Segons Jonathan Olsberg, els incentius fiscals, que tendeixen a aplicar cada cop més estats europeus, no només tenen un impacte econòmic positiu en aquells països que n'han implantat, sinó que beneficien les empreses de producció local que participen en les produccions, ja que promouen la interacció amb empreses internacionals, atreuen la inversió estrangera, faciliten l'establiment de coproduccions, estimulen la mobilitat de treballadors i afavoreixen l'adquisició d'experiència.
La prova és que aquells països amb costos alts de producció i que no apliquen incentius (com és el cas d'alguns països escandinaus) han tendit a perdre la inversió estrangera en detriment d'altres països veïns que sí que n'apliquen (com Islàndia).
A més, Olbserg ha remarcat que l'audiovisual i les indústries creatives en general són un dels sectors amb un efecte econòmic multiplicador més elevat. Pel que fa el Regne Unit, segons un estudi de la mateixa consultora Olsberg-Spi, cada lliura invertida en incentius genera més de 12 lliures de valor agregat brut cap a altres sectors i 3,74 lliures d'ingressos addicionals al govern.
La consultora britànica Olsberg-Spi està dedicada a l'assessorament estratègic de les indústries creatives, especialitzada en cinema, TV i mitjans digitals; i ha estat co-autora de l'informe publicat per l'Observatori Europeu de l'Audiovisual "Impact analysis of fiscal incentive schemes supporting film and audiovisual production in Europe".
https://www.clusteraudiovisual.cat/wp-content/uploads/2021/02/IMG_0028-e1427110645309.jpg
380
509
admin
https://www.clusteraudiovisual.cat/wp-content/uploads/2023/01/LogoclusterAudiovisual-10anys.png
admin
2015-03-20 11:32:39
2015-03-20 11:32:39
Els incentius fiscals, amb Jonathan Olsberg